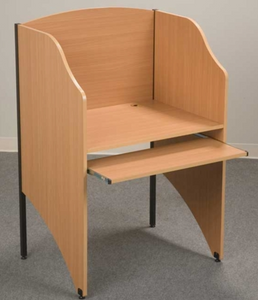 Shipping times may vary.
Live chat us or call for specifics on your item.
This small carrel desk is perfect for kids. They can have some privacy at home for distance learning or doing their homework. If you have multiple kids, you can put more than one in a room.
Create a personal and productive study space for kids with this desk so they don't have to be in a common space such as the kitchen table.  

* Teak panels are constructed from 5/8" laminated particleboard.

* The panels in our new Deluxe Floor Carrel are constructed from 3/4" high-pressure laminate for heavy-duty use.

* The frame is black metal.

* The keyboard surface measures 31-1/2"W x 11-3/4"D x 25-1/2"H and is large enough for both a keyboard and mouse for either right or left-hand usage.

* The work surface measures 31-1/2"W x 23-3/4"D x 29"H and is large enough for CRT or flat-screen monitors or a laptop computer.

* Leveling glides included.

Measures 32-3/4"W x 24-1/2"D x 48"H overall. Shpg. wt. 66 lbs. Please allow 2 weeks for delivery.
 Order by the end of the month and receive a free Home Office Wellness Water Bottle. One per order. 
---